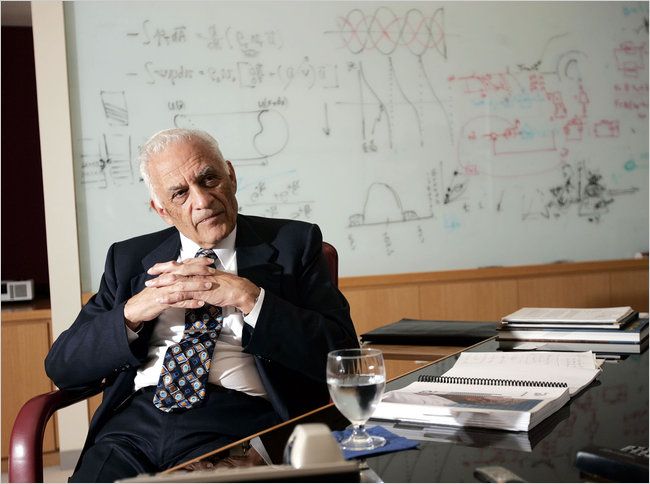 "Amar Bose was an exceptional human being and an extraordinarily gifted leader. This proud MIT graduate, professor and innovator was a true giant who over decades enriched the Institute he loved with his energy, dedication, motivation and wisdom. I have never known anyone like him. I will miss him. MIT will miss him. The world will miss him."

-- MIT President L Rafael Reif
Bose was born on November 2, 1929, in Philadelphia. His father, Noni Gopal Bose, was a Bengali freedom fighter who was studying physics at the Calcutta University when he was arrested and imprisoned for his opposition to British rule. Noni Gopal Bose escaped and fled to the US in 1920, where he married an American schoolteacher. At 13, Amar Bose began repairing radio sets for pocket money for repair shops in Philadelphia.
From Outlook Money, Anti-Theft Your Idea:
Lying in bed listening to his stereo in his dorm at the Massachusetts Institute of Technology (MIT), Boston, US, Amar G. Bose fretted about how bad his new stereo sounded. This provoked him to turn his mind to improving the sound quality. That was when the idea came to him. In the moment of euphoria, he dialled his professor, Charles Hieken, forgetting the insane time of the hour and told him how it would work. Bose got down to working towards it and finally, at Hieken's behest, filed for a patent. What followed is well known. He became the founder of the Bose Corporation that almost redefined how speakers would sound.
Some of the above may be apocryphal, but it was indeed his passion for classical music which led him to research in psychoacoustics, or how humans perceive sound. What he wanted was very simple: "to replicate, as clearly as possible, the sound of live music through technology." Bose, with a doctorate in electrical engineering from MIT did go on to found the Bose Corporation in 1964, which as the New York Times put it, became synonymous with high-quality audio systems and speakers for home users, auditoriums and automobiles. For its 2007 interview with the genius, the Wired traced the genesis of the corporation:
Bose's first speaker, the 901 Direct/Reflecting system, hit the market in 1968. His patented technologies are now found in high-end speakers, headphones, automotive sound systems, large and small home systems and, most recently, computer speakers such as the Bose Computer MusicMonitor. Today, Bose is a privately held company with annual sales of $2 billion.
When asked by Outlook, he said he had no advice for Indian entrepreneurs:
When I formed the company, I laid down a policy on day one that 100 per cent of our earnings would be ploughed back into R&D. We are not a public company precisely for that reason. So much time and energy goes into preparing quarterly statements and that sort of thing. Also, I have always placed equal weight upon the character and the technical abilities of people. All these are not exactly formulas to generate maximum money in the minimum time, which is what most people are interested in. So I really don't think my advice could be of any use.
Despite this, as the Wikipedia notes, in the year 2007 he was listed in Forbes 400 as 271st richest man in the world, with a net worth of $1.8 billion. In 2009, he had dropped off the billionaire list, and made it back onto the list in 2011, with a net worth of $1.0 billion. He told Popular Science magazine in 2004:
"I would have been fired a hundred times at a company run by M.B.A.'s. But I never went into business to make money. I went into business so that I could do interesting things that hadn't been done before."
And that is exactly what he did:
A Bose software program enabled acoustic engineers to simulate the sound from any seat in a large hall, even before the site was built. The system was used to create sound systems for such diverse spaces as Staples Center in Los Angeles, the Sistine Chapel and the Masjid al-Haram, the grand mosque in Mecca.
Karen Jones of Wired noted that etched in a wall outside Bose's large but not ostentatious office in Framingham, Massachusetts, an engraved quote from Maurice Maeterlinck, who won the 1911 Nobel Prize in Literature:
"At every crossroad on the road that leads to the future, each progressive spirit is opposed by a thousand men appointed to guard the past."
While born in the USA, Bose was very conscious of his Indian heritage. He spoke to Outlook way back in 1996, when his company set up a subsidiary in India: The Bose Speaks
My upbringing was much, much more Indian than western. My father was very involved in the Quit India movement and my mother very interested in Indian philosophy. Freedom fighters who came to the US because of political persecution would stay in our small house. So, when I went to India and talked to the students at IIT, I felt a strong, sudden rapport.
He spoke at length to Discover magazine where he elaborated on his upbringing at length. Discover Dialogue: Amar G. Bose: The Maestro of Acoustics Makes Waves
We had a small house in suburban Philadelphia, and Indian people would come stay with us for days, weeks, or months. The food we ate was Indian, and both my mother and father were very deep into the ancient philosophy of India, so it could well have been an Indian household. There were challenges. The prejudice was so bad in the United States at that time that a dark person with a white person would not be served in a restaurant. My father, mother, and I would try it occasionally. We would sit there, and the food would never come. My father would ask for the manager. He would pretend to be an African American because the prejudice was against them, not Indians. He would say in a quiet voice: "I notice that we are good enough to earn money to cook the food, good enough to earn money serving the food, good enough to give our lives in the war for our country. Could you explain to me why it is that we are not good enough to pay money and eat the food?" When he spoke in a quiet voice like that, everyone in the whole restaurant would fall silent, too, and listen to it. Then he would say to my mother and me, "It is time for us to go."

You admired him?

B: Yes. He lectured from Philadelphia to Washington, D.C., for 15 years for the Indian underground movement, describing the atrocities he had seen under British rule in India that were not unlike those in Nazi Germany.
There also was an Indian connection in what he eventually came to be known for, the epnymous speakers he invented. He explained to Discover about what got him interested in acoustics:
I had studied violin from age 7 to 14. I loved music, and in my ninth year at MIT, I decided to buy a hi-fi set. I figured that all I needed to do was look at the specifications. So I bought what looked like the best one, turned it on, and turned it off in five minutes, the sound was so poor. I was so curious to find out why. In the spring of 1956, I went to India to teach on a Fulbright scholarship, and I read about acoustics at night. In a concert hall, only a tiny bit of the sound comes to you directly; most of it arrives after many reflections from the surfaces of the room. Only about 2 percent of the sound is absorbed with each reflection, so there are many, many reflections. Yet people had been designing loudspeakers that only radiate forward. We did experiments with the Boston Symphony for many years where we measured the angles of incidence of sound arriving at the ears of the audience, then took the measurements back to MIT and analyzed them.
As the NYT notes, Dr. Bose's devotion to research was matched by his passion for teaching:
Having earned his bachelor's, master's and doctorate degrees in electrical engineering at the Massachusetts Institute of Technology in the 1950s, Dr. Bose returned from a Fulbright scholarship at the National Physical Laboratory in New Delhi and joined the M.I.T. faculty in 1956.

He taught there for more than 45 years, and in 2011, donated a majority of his company's shares to the school. The gift provides M.I.T. with annual cash dividends. M.I.T. cannot sell the shares and does not participate in the company's management.
Amar Bose is survived by a grandchild, his two children, Vanu and Maya, from his ex-wife, Prema and his second wife, Ursula. In late 90s, Vanu Bose found himself, ironically, in a bitter battle with MIT where he earned his bachelor's, master's and doctoral degrees like his father. The father, may have found the episode painful but he remained "intensely proud" of his connections with MIT, and the education his son and daughter received from that school. As the NYT put it:
Dr. Bose made a lasting impression in the classroom as well as in his company. His popular course on acoustics was as much about life as about electronics, said Alan V. Oppenheim, an M.I.T. engineering professor and a longtime colleague.

"He talked not only about acoustics but about philosophy, personal behavior, what is important in life. He was somebody with extraordinary standards," Professor Oppenheim said.
Behind it all was, of course, as he told the Wired in 2007, it was his love for classical music -- "the moving music of Beethoven, Mozart, Schubert." And the man while refusing to speculate on what next to expect from technology, kept in touch with the rapid advances and remained optimistic:
WN: What are some of the minuses of the digital age?

AB: When any industry gets started, everybody jumps in and most people don't even have any technology background. The computer industry is in that phase today.

WN: Explain a bit more, please.

AB: Sadly, there's a heck of a lot of emphasis on people developing gadgets to get to market quickly, which have incredible troubles interconnecting to other gadgets. You are in the stage that hi-fi audio was in the 1950s, with so many systems that the consumer is confounded by the complexity and doesn't care to know. They care to use the thing, not to know how in the heck to connect it to this and that. However, I do believe that will pass, as it did with hi-fi.

WN: You talked about compression and today people are downloading their music. Do you find it disturbing that MP3 is not a high-quality audio format?

AB: No. It will evolve. MP3 has already evolved. That will be the way.
Also See: Amar G. Bose of Bose Audio Systems & Speakers Dies at 83